Rongxiang Xu College of Health and Human Services announced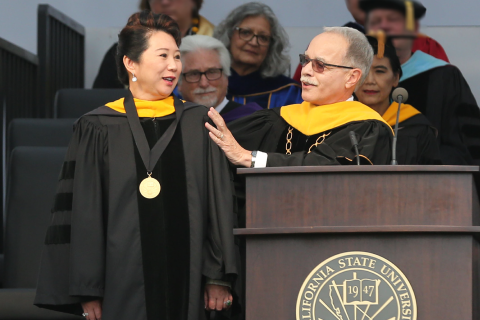 The naming is recognition of the largest gift in University history
Cal State LA President William A. Covino announced the naming of the Rongxiang Xu College of Health and Human Services on Saturday afternoon during the University's final Commencement ceremony.
Rongxiang Xu College of Health and Human Services Official Website
The event marked the first named college at Cal State LA and recognizes the largest gift in the University's history. The National Rongxiang Xu Foundation made the gift to commemorate the contributions of Dr. Rongxiang Xu. Dr. Xu was a surgeon and expert in regenerative medicine. He passed away in 2015.
The ceremony was attended by officials including Congressman Xavier Becerra, California Treasurer John Chiang, Congresswoman Judy Chu and Chinese Counsel General Liu Jian. During the ceremony, Covino awarded Presidential Medallions to Rongxiang Xu's widow, Dr. Li Li, and his son, Kevin Xu.
"I present the Presidential Medallion to Dr. Li Li and Kevin Xu, in recognition of their outstanding leadership and extraordinary service to the students and faculty of Cal State LA," Covino said.
The Presidential Medallion is the highest honor awarded by Cal State LA. Since the medallion's inception in 1983, only 10 have been awarded.